Post by Spooky on Sept 25, 2007 15:10:47 GMT -5
;D ;D ;D ;D ;D ;D ;D ;D ;D ;D ;D ;D ;D ;D ;D
The Legend of the Thai Water Elephant says that high in the mountainous waterways of Thailand there exist packs of tiny elephants, which spend their entire lives paddling in muddy streams which are hidden in the dense jungle. They are no more than an inch tall, and are said to be deadly due to their poisonous tusks. These tusks are said to be filled with enough venom to kill a man even long after the little animal's death. Only experienced hunters are able to sneak up on the miniature elephants in the wild, as only their tiny trunks are visible poking above the waters surface. Unwary travelers that cross the paths of these mini-pachyderms usually die, therefore, it is said, that the unfortunates who stumble across one in the wild don't live to tell the tale. Additionally, the little elephants are notoriously hard to maintain in captivity and usually die within a few hours, or days, of their capture. From time to time, the tiny mummified remains of these creatures surface in the hands of Burmese traders, Thai markets and obscure shops in the region.
The last known specimen of this rare creature to surface was in 2003, in the Mae Sot district of the providence of Tak. Locals in Tak believe the water elephant is one of the world's rarest creatures, bestowed with supernatural powers. Sala Chuainoo, a 50-year-old elephant keeper, said that when he was very young his parents told him that an elephant running amok would never hurt a person carrying the tusk of a water elephant, and those carrying such a tusk would be able to quickly calm rampaging pachyderms.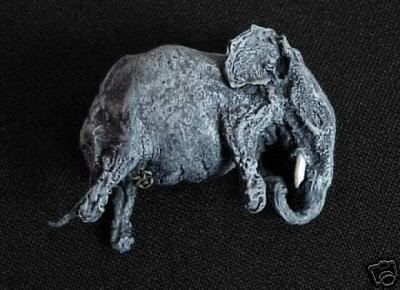 Scientists and researchers at Pha Woh Hospital in the Mae Sot district, have investigated these kinds of Thai Water Elephant carcasses extensively. The x-rays of the little corpses proved that the tiny animals have a bone structure similar to that of a full-sized elephant.
Due to their extreme rarity, and place in traditional Thai legend, these elephants reportedly have sold among private collectors for up to 3 million Bt (Thai currency) which is the equivalent of approximately 78,000.00 dollars!